Tariff for Bank House B and B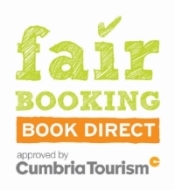 Bank House B and B prices range from £29 to £47 per person per night based on a couple sharing a room. My single occupancy rate is for a double room and is usually an extra £20per night.This depends on the time of year and special offer available . The more nights you book will always mean either a 5% or 10% reduction up to 33% off for 3 for 2 in the autumn, winter spring 15% off for stay of 7 days. . For these special offers, go to our special offer page which will give you a view of offers available over the year. The best way to see prices offers and last minute deals is either on the calendar below or follow Bankhouse on Twitter
I require the first days stay as a non returnable deposit and normally this is easiest by credit or debit card. I will accept a cheque as deposit but I need at least 10 days notice for them to clear before your stay. The remaining sum can be paid by credit or debit card or cash, not cheque. I also require you to read and agree to our terms and conditions which will be sent to you by email or go to Terms and Conditions on this website.
Dont forget you can phone us on 01768 868714 before 10pm or email us at info@bankhousepenrith.co.uk
Fairbooking
We are part of the fair booking scheme run by Cumbria Tourism. As part of this we promise that if you book directly with us you will get the best rate and the best room available at the time. A part of your booking will go towards a loal charity. We have chosen Nurture Lakeland and Fix the Fells. You will also receive a small gift.
All transactions are done securely and we are verified by Secuity metric.